Trackdown Brings Scores for Film and Television to Life with Neumann Studio Equipment
The esteemed Sydney studio's Simon Leadley Scoring Stage facilitates world class recording sessions using a state-of-the-art monitor array and microphone locker headlined by Sennheiser and Neumann
Sydney, Australia, April 6, 2022 – Trackdown is a renowned recording and post-production studio specializing in musical scores for film and television, as well as a diverse roster of music genres. Entrusted with some of pop culture's most celebrated film franchises, revered orchestras, and even operas, Trackdown Lead Score Engineer and Sound Supervisor Craig Beckett depends on a powerful Neumann studio monitor array and an extensive collection of modern and vintage Sennheiser and Neumann mics. The 7.1 monitor system setup includes, but is not limited to, three KH 420 and four KH 120 monitors, as well as two KH 805 subwoofers, while some of the preferred control room microphones in Trackdown's arsenal include the Neumann U 87 AI, U 89, a first-generation TLM 170, and Sennheiser MKH 50 and MKH 8020.
Trackdown has been a key figure in the Australian music world for over 30 years. Since its humble roots as a rehearsal studio, the space has been graced by such homegrown talents as INXS and Divinyls. In recent years, the studio has expanded to include Australia's only purpose-built scoring stage, named the Simon Leadley Scoring Stage, after the Trackdown co-founder. With this, the building houses an automated dialogue replacement (ADR) and foley recording studio, the Theatre One screening room for mixing, as well as 18 fully furnished production suites.
The studio has earned a strong reputation for providing a suite of services in audio and music post production for film and television, most recently servicing such projects as The Crown, The Mitchells Vs. The Machines and Mortal Kombat.
Craig Beckett has been working at Trackdown for more than 15 years, having started his career as an assistant, working his way to lead engineer. "I started off playing in heavy metal bands and recording them as a hobby. When it came time to get a 'real job', as my parents put it, I got the opportunity to come into Trackdown thanks to a band I knew that was recording there. I helped rebuild guitars, did technical work and sat in on a few sessions," shares Beckett, "From there, I was offered a job and haven't left Trackdown since."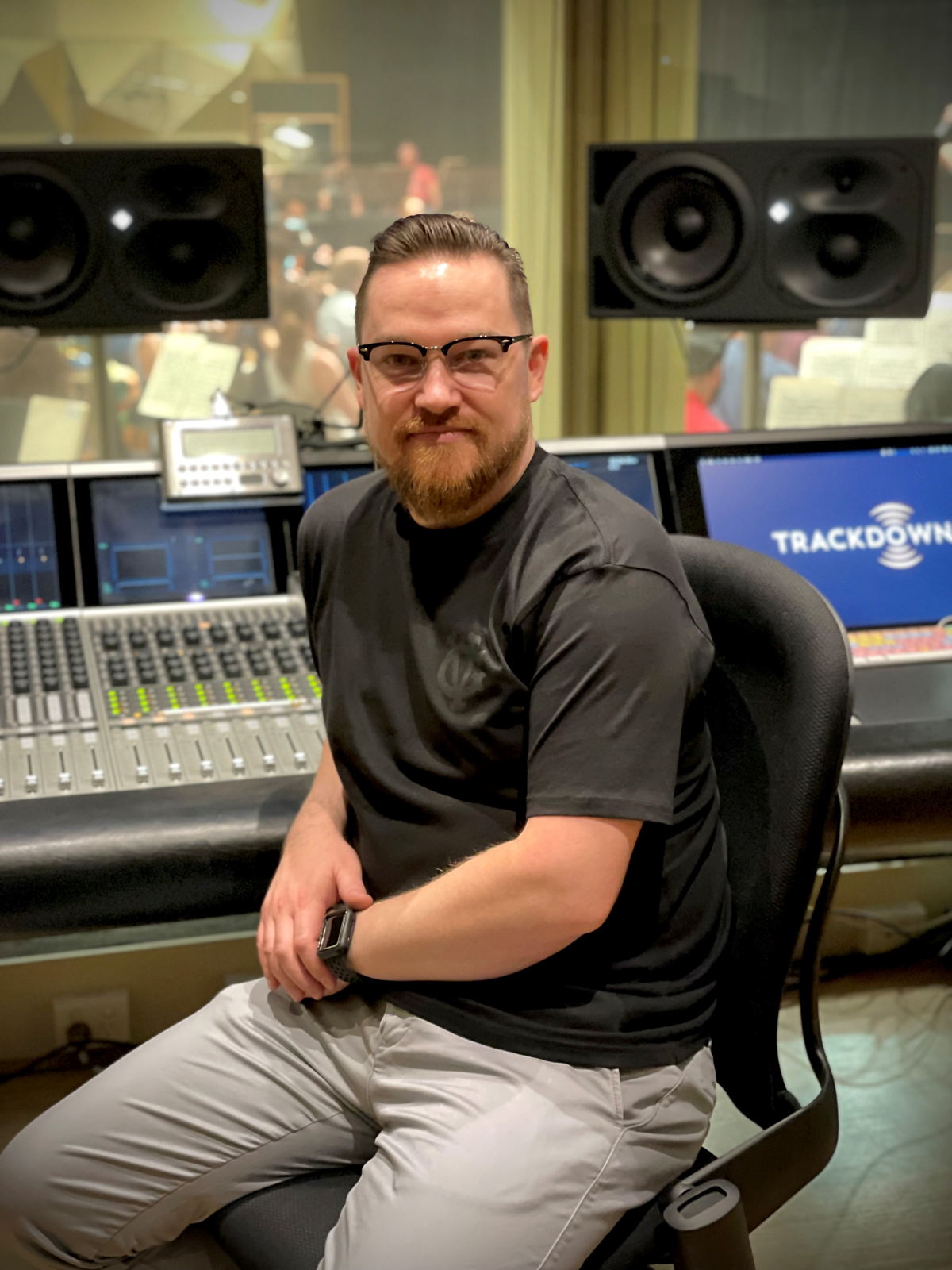 In Beckett's time at Trackdown, the studio has continued to build on its standing and expand its offerings. A few years ago, the studio underwent a redesign and with it, an upgraded monitor array.
"We restructured the scoring stage about five years ago, which was when we had the chance to upgrade the monitors in the room. We tried out a few monitor brands and ended up going with the KH 420 as our primary speakers. After listening to a lot of different recordings in the room, I found that I was able to hear many more frequencies with the Neumann monitors versus other speakers," says Beckett, "I not only could hear more while tracking, but I was able to get a better signal-to-noise ratio, and great high and low-end response."
The Neumann monitor array in the Simon Leadley Scoring Stage is coordinated via a Euphonix System 5 console with 340 channels. The digital-hybrid console enables easy calibration, and the monitors are effortless once they are set up. According to Beckett, "I never have to touch the monitors. I double check them once every six months, but we have had no issues even as they have aged over the last five years." The 7.1 monitor array includes three KH 420s, four KH 120s and two KH 805 subwoofers.
The control room also houses a covetable microphone locker with several models from several manufacturers. The collection includes two Sennheiser MD 421-II cardioid microphones, two MKH 8020 omni-directional RF condenser mics, an MKH 50-P48 super-cardioid RF condenser mic, and three MD 441-U dynamic studio mic. Beckett's go-to mic has become the MKH 8020 for a variety of recording use cases, "the MKH 8020 microphones are on my list every time. They are great room microphones for piano, as an ambient microphone extension to blend with other mics, and I even used them to record a didgeridoo this morning."
With this, the control room also features several Neumann microphones. This includes, but is not limited to, a set of KM 85 cardioid microphones, a pair of M 147 tube microphone, a matched pair of KM 184 small diaphragm condenser mics, six KMR 81-i short shotgun mics and a few vintage studio mics like the U 87 and a first-generation TLM 170. The microphone and monitor arrays converge to enable Beckett to do his job to the fullest extent, "the best part about our Neumann monitors is that there is no difference between what I hear in the control room or booth. The microphones and monitors pick up everything so accurately."
The monitors have served Trackdown well during the last few years. As more and more film and television productions have moved to Australia, the studio has received an influx of scoring work. Beckett shares that this was especially amplified during the pandemic, "we have been fortunate in Australia as we did not have the same [COVID-19] caseloads as other countries. Because of this, we have been able to stay open and support a lot of projects that were on hold while the United States and Europe were in lockdown."
In recent months, Beckett and the team at Trackdown have shown no signs of slowing down. You can hear Trackdown's recent scoring work in recently released films and television series including Hotel Transylvania: Transformania (Sony Animation), Maya and The Three (Netflix) and La Brea (NBC).
---
About Trackdown Studios
Trackdown is Australia's largest premier audio post-production and music facility and is located at The Entertainment Quarter (adjacent to Fox Studios Australia) in Sydney. Trackdown's creative services are led by Tim Ryan (Mortal Kombat, Peter Rabbit and The Great Gatsby) and Craig Beckett (Three Thousand Years of Longing, Hotel Transylvania 4, World of Warcraft Shadowlands and The Undoing).
Trackdown's services include sound design, foley recording, ADR recording (also available via Source Connect), music supervision (including licensing), score recording, editing and mixing, music editing, mixing and project coordination.
Trackdown's facilities include Pro Tools edit suites, 7.1 mix rooms, mixing theatrette, foley and ADR recording studios and Australia's only purpose-built orchestral scoring stage. The facility also boasts 18 dry hire edit suites so productions can house their offices, editorial, sound and music departments all under one roof. For credits and further information, please visit: www.trackdown.com.au
About Sennheiser and Neumann
We live and breathe audio. We are driven by the passion to create audio solutions that make a difference. Building the future of audio and bringing remarkable sound experiences to our customers – this is what the Sennheiser brand has stood for since more than 75 years. While professional audio solutions such as microphones, conference systems, streaming technologies and monitoring systems are part of the business of Sennheiser electronic GmbH & Co. KG, the business with consumer devices such as headphones, soundbars and speech-enhanced hearables is operated by Sonova Holding AG under the license of Sennheiser. ​
​www.sennheiser.com
​www.sennheiser-hearing.com
As part of the Sennheiser Group, Georg Neumann GmbH, known as "Neumann.Berlin", is one of the world's leading manufacturers of studio-grade audio equipment and the creator of recording microphone legends including the U 47, M 49, U 67 and U 87. Since 2010, the company has expanded its expertise in electro-acoustic transducer design to also include the studio monitor market, and added studio monitoring headphones to its portfolio in early 2019. In 2020, the Sennheiser Group generated turnover totaling €573.5 million. ​
​www.neumann.com
---
Andreas Sablotny GLOBAL - Product Marketing & PR, Georg Neumann GmbH
---
---